April 14, 2021
How to get your website on the first page of Google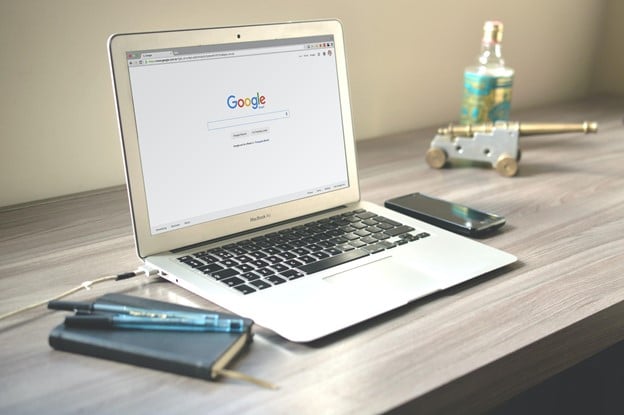 Do you struggle to get your website ranking where you want it to? It's not easy and there are many hoops you need to jump through. Just by searching for the term you want to rank for, you'll get an idea of the competition you're facing to even get in the top 100 results. Unless you work in a very niche area, the chances are that you're treading a very well worn path. That's not to say it's hopeless! By employing the techniques we've listed below, you'll give your website the best possible chance to appear on the first page of Google.
Caveat – this post is assuming that you want to get to the first page of Google for competitive keywords that cover a service, product or otherwise that's related to your industry. If you're struggling to rank on page one for your own brand, this could be the sign of a more deep-rooted problem with your website. I'd suggest you get in touch with an SEO expert right away! Luckily for you, I know some people – https://www.mcmnet.co.uk/contact/.
This is also an SEO post and is focusing on the things you can do to get your website on the first page of Google without paying. You can of course get an ad linking to your website listed on the first page of Google through Google's advertising platform. If you're after a post about optimising your Google Ads account, visit some of our other great blogs…https://www.mcmnet.co.uk/our-blog/our-top-tips-for-optimising-your-ppc-account-to-drive-more-supporters-to-your-website/ 
Why is the first page important
As the following list of organic CTRs (Click-through rates) demonstrates, there is a big drop off when it comes to generating web traffic the further down the page you get.
Position 1 – 34.2%
Position 2 – 17.1%
Position 3 – 11.4%
Position 4 – 8.1%
Position 5 – 7.4%
Position 6 – 5.1%
Position 7 – 4.1%
Position 8 – 3.3%
Position 9 – 2.9%
Position 10 – 2.6%
Source: Smart Insights
Think about how many people search past the first page of Google.
What are the benefits of ranking on the first page of Google?
Well, since you're reading this post, you'll likely be aware of at least one benefit of being one of the first organic search results for queries related to your brand.
brand awareness, clicks, traffic, conversions, new customers, authority
Featured snippets
For certain searches, you may have noticed the first organic result getting featured even more prominently with a longer listing. These are called featured snippets. An example has been included in the screenshot below.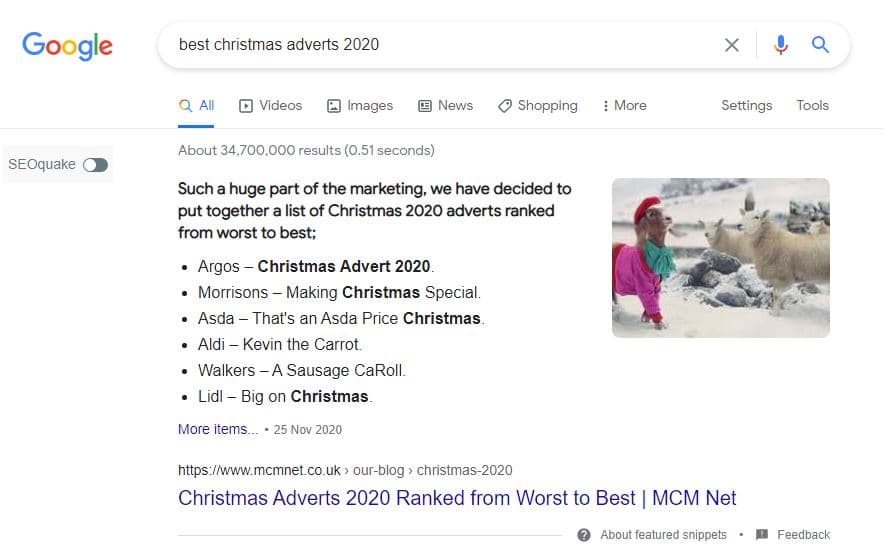 You can read more about featured snippets, also known as Rank 0, in our blog post: https://www.mcmnet.co.uk/our-blog/what-is-rank-0-our-guide-to-ranking-for-googles-featured-snippets/
Voice Search
The extra value of ranking for a featured snippet, aside from being the first listing and getting more real-estate on the SERPs, is that you'll also be the first choice result for queries on Google voice search devices. Give it a go, ask Google about the best Christmas advert of 2020 and see if we still come up!
We ran a voice search survey earlier this year, here's what we found – https://www.mcmnet.co.uk/our-blog/should-we-be-optimising-for-voice-search/
Lay the groundwork if you want your website to get ranked – research, competitors
Research the most appropriate keywords. This should be your first port of call when planning to rank on the first page of Google. To read about conducting keyword research for SEO, see our blog post – https://www.mcmnet.co.uk/our-blog/how-to-research-keywords-for-your-seo-strategy/ 
Free tools that can help you include Google Keyword Planner and predictive search on Google. 
What type of page is most relevant to the search term?
Naturally, certain topics and keywords will lend themselves better to different types of content. This might include GMB, Google Maps, blog, images, youtube videos, etc. Not sure about GMB? We've already got a helpful blog all about that: https://www.mcmnet.co.uk/our-blog/a-guide-to-google-posts-what-exactly-are-they/
If you feel that writing more blogs could help boost your website's rankings, we can help there too. Check out our blog about blogging – https://www.mcmnet.co.uk/our-blog/5-top-tips-for-writing-blogs/
You should also make sure that your website is in good enough health for Google to want to rank it. You can have the best content in the world, but if your website takes an age to load, your chances of ranking well are slim. Here are some of the most important factors when it comes to website health:
Error-free – https://search.google.com/search-console/about 
Mobile-friendliness – there is a free tool from Google that will help you determine how friendly your website is to mobile users – https://search.google.com/test/mobile-friendly.
Speed – https://www.mcmnet.co.uk/our-blog/a-guide-to-website-speed/ 
Https – https://www.mcmnet.co.uk/our-blog/missing-an-s-dont-get-caught-out-by-googles-latest-https-changes/ 
Optimising your web pages for page 1 of Google
Getting to the content itself, it's important to know what the ranking factors are. While Google's organic ranking algorithm remains largely a secret, Brian Dean has put together a very detailed list of factors here: https://backlinko.com/google-ranking-factors. Some of these have been confirmed by Google, others are speculation based on common themes amongst top ranking pages, while there are more still that are pure speculation. To focus on the factors that are within your control, are free and are tried and tested, here's our list:
Be patient
It's unlikely that your website is going to be on page 1 of Google within 24 hours. It may take some time to show up at all, let alone be in a position to dominate the SERPs.
Track your rankings
To make sure that all your efforts are bearing fruit, it's a good idea to track your progress. Even if your pages don't reach page 1 in the timeframe you'd hoped, you may at least see that they are moving in the right direction. If you don't have a third-party tool that tracks keyword rankings for you, such as SEMrush, your best bet might be to manually check rankings. Google Search Console, which we mentioned earlier, can give you insight on organic performance too.
TLDR
Get your website as healthy as it can be, including having speedy, mobile-friendly pages and being error-free.
Identify the best keywords and check out the competition to see what's already ranking well. Identify what you think the competition is doing well – and then find a way to do it better. This often includes creating content that gives you a fighting chance. Google favours unique content, written in such a way that it doesn't feel like it was written for the sake of a good ranking. Long-form content works best, allowing you to work in rich, natural, LSI keywords.
Make sure your content and metadata includes the keywords you want to rank for. It's no earth-shattering approach, but making sure that simple low hanging fruit like meta data isn't overlooked has a huge impact. We find that not overlooking the underestimated meta data is one of the quickest ways to make a difference in your rankings. 
Monitor your results 
Having a benchmark of some sort is vital to tracking your site's progress. We also find it helpful to log your rankings for keywords before you make any changes to your website. After a week or so, check your rankings again and log if there have been any changes to them. Overtime, you'll find that you can create some interesting data, showing the rising and natural fluctuations of your rankings. 
Want more information about getting yourself on page 1? We're here to help.