March 12, 2013
40% of Internet time is via a mobile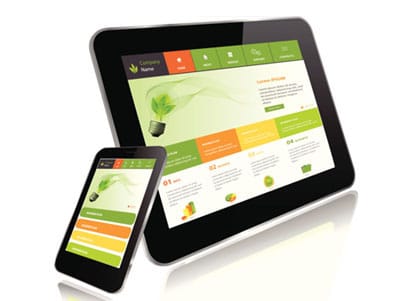 Just how accessible is your web site on a mobile? A recent report by comScore shows that almost 40% of US internet time and nearly a third of UK internet time was on a mobile device last year. In a year's time the prediction is that those figures could flip over and mobile become the dominant platform of choice.
I know I spend more time on my iPhone and iPad now than on a PC. Well in fact I spend no time at all on a PC as I made the terrible mistake of switching to a Mac for work – but that's another story!
So if your site isn't great on a mobile or maybe still contains flash then you could be throwing away 30 to 40% of traffic. It's unlikely that someone on a mobile or tablet is going to wait to look at your site when they get back to their PC. They'll Google again and find a competitor that has a mobile site. That's it – you lost a potential customer.
Have a look at your site on a mobile. Would you use it? Can you navigate it easily? Is all the key information there and accessible? Do people need nails filed to pins to click the menu? Are there massive gaps where a flash movie should be? Can people fill in a form? Does the site take forever to load? If you're a shop can people make a purchase?
If you answer no to any of the above then it's time to make some changes. It's a simple decision really. Well not quite. Now you have to decide between a mobile site or a responsive site. I'll cover more about these in a later blog post but essentially a mobile site is a stripped down version of your main site. It features just the most important pages and is specifically made to fit mobile screens. Have a look at http://m.greenthumb.co.uk/ to see the mobile site we developed for GreenThumb. This site proveds a stripped down version, displaying only GreenThumb's core website information.
For many sites though the responsive route will be the best – and I suspect in future years all sites will be responsive. In brief a responsive site is your main site but as the viewing device screen decreases in size your whole website auto scales and adjusts to fit. Menus move, items are stripped out and unnecessary items are hidden. We're just about to launch a responsive ecommerce site for one of our clients. There's not many around yet but it is a work of art both in looks and navigation – even if I may be slightly biased! Until I can show you it have a look at the Currys web site. This is a responsive site. Make the browser smaller and smaller on a PC down to mobile size and watch what happens. Pretty clever eh?
There are also arguments as to which site is best for SEO with many saying that responsive is the route to go for spectacular SEO results. Whichever one you choose Google definitely favours a site that has an accessible mobile presence. Definitely and Google may be very dangerous words these days but I'll eat my Mac if I'm wrong.
So – you NEED a mobile site. Or are you happy ignoring a third of customers? Or in a year's time only serving a third of them? You just need to choose what type and get it done.
Contact us or email me direct at jrm@mcmnet.co.uk if you'd like to discuss the options or stayed tuned for the next blog post for the pros and cons.