September 2, 2014
Analytics for iOS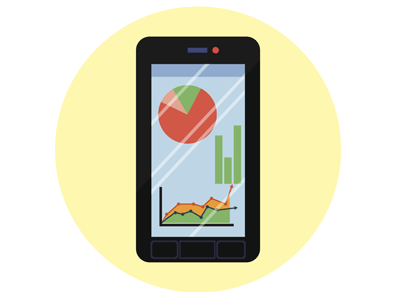 At the end of July Google finally released a version of Google Analytics for the iPhone, great news for data obsessed analytical marketers! The official iPhone version comes two years after Google released analytics for Android, so being an Apple user I've had to wait and wait….and wait.
This was the next logical step for Google as the alternatives on the market lead to iPhone users being forced to use (and often pay for!) clunky third party apps to keep analytics at their fingertips.
The new app, which I have been playing with for a few weeks, gives users access to their GA accounts directly from their device*, whilst also offering real time reports, allowing you to monitor recent changes.
*Note: If like us, you manage multiple Google Analytics accounts under the one profile, you may initially struggle to work out how to navigate from one account the other. Embarrassingly enough this is something that took me a fair few minutes to work out. To save your time click the home button, then the specific account and finally "Account List", to navigate freely- so simple, I know.
What we like about Google Analytics for iOS?
Upon launching the app, signing in and selecting the account, you're immediately shown a real-time view of the number of visitors on your site followed by an audience overview from the date range selected, this forms part one of the reports accessible on the 'Overview' screen. This is extremely useful for on-the-go marketers as almost all the information you need is provided in a quick snapshot. Should more information be required, you can simply tab the report metric you'd like to further analyse- such as "Real-Time", "Audience", "Acquisition" etc.
The side navigation 'mirrors Google Analytics on the web' (Googles official line), meaning that the whole experience feels familiar, even on first use. Unlike other 3rd party apps I've used, the official Google Analytics app didn't take hours of learning how to navigate to the sections I required, which is always a good start.
However, in my opinion the most interesting feature of all is the heat map of page views, this is something that isn't available on the desktop version of Google. This enables you to instantly identify the days and exact times that your site is most popular. This type of information is priceless and ideal for finding the perfect time for promoting products or publishing blog posts, something that is very useful indeed.
What we didn't like…
One thing I think this app is crying out for is customisable reports. It would seem that you're unable to use them via the app, which is frustrating as ultimately my GA journey will always have to end with the desktop version to access this information.
The only other bad point which was cause for an office debate was that the terminology used doesn't match the desktop version of Google Analytics (that was some debate!). For example 'Visits' should actually be 'Sessions', 'Unique Visitors' should be 'Users' etc. Although this isn't major, it gives the sense that the App is already dated (using dated terminology), at the very least matching these would be nice for consistency.
Overall
Although I thought the app would be excellent for a top-line view of the account, my primary fear was that it would still struggle when it comes needing much deeper analysis. To a certain extent this is true (although I've accepted this as I wasn't expecting full reporting functionality), however I was still impressed with the analysis available via dimension-based drill down, it's certainly enough for analytics on the go!