February 24, 2022
Developing Trends for 2022: The Metaverse Connection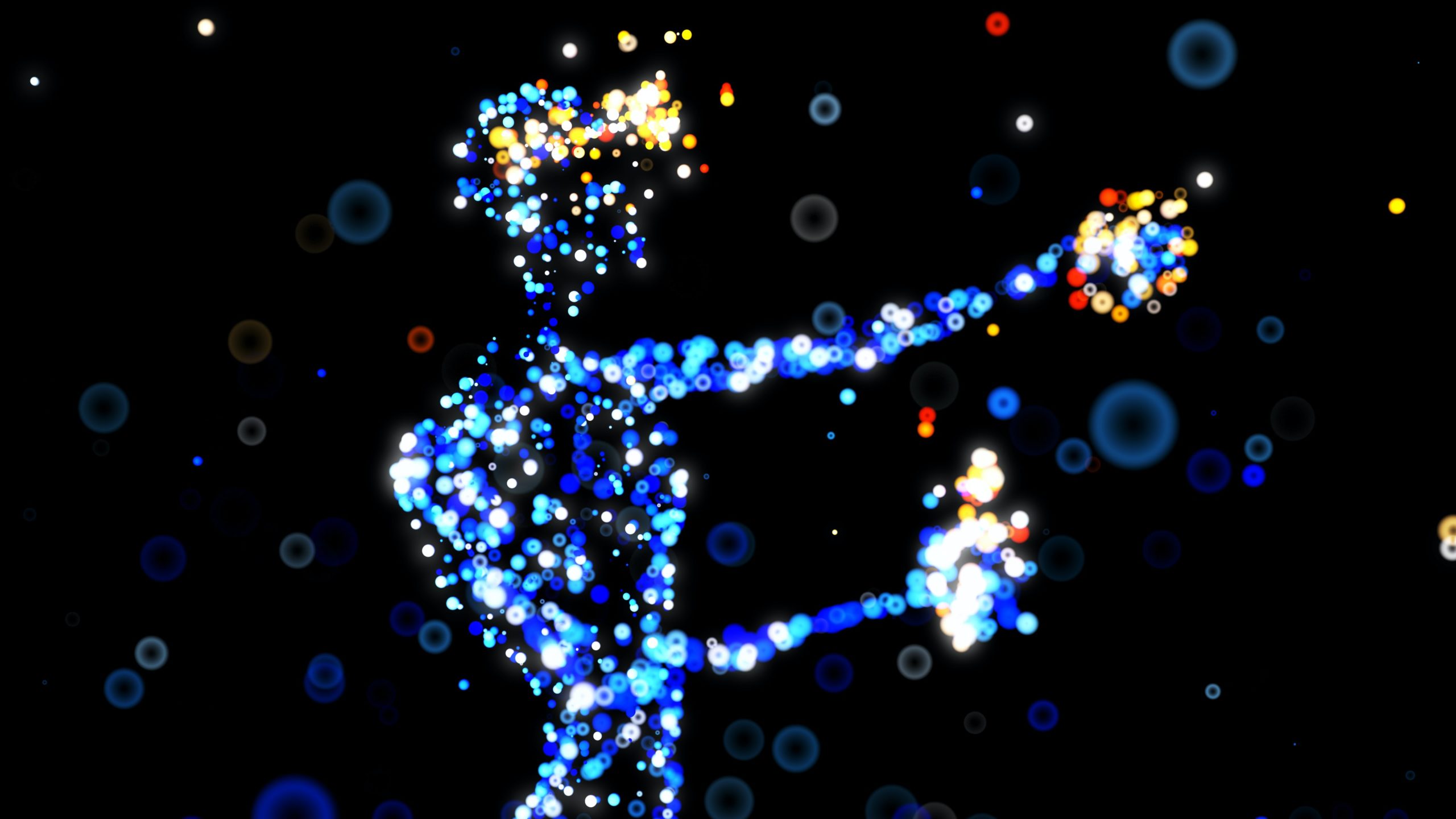 The metaverse has been developing for years, but the pandemic meant it gathered speed at an unimaginable pace. The market opportunity of the metaverse is estimated at a huge $1 trillion yearly and many brands and businesses are now making their entry into these digital realms. 
The metaverse means that brands are suddenly able to supplement a physical, real life interaction with a virtual connection to customers and target audiences. These opportunities are just beginning for 2022 and beyond.
The Metaverse is in its infancy
The metaverse isn't completely new, back in the early 2000's – many of us played games like 'The Sims' or 'Second Life'- but without modern VR technology, it simply wasn't immersive, it didn't feel life-like. Over time, this has changed dramatically, but the advancements have just begun. The development of the Haptic glove, for example, means that you'll even be able to feel objects in the metaverse (and shake hands with business associates).
Eric Yuan, Founder of Zoom, has said that in the future, users will be able to 'smell the virtual coffee' and we don't think this is far from the truth!
Gucci hosts exhibition on online gaming platform Roblox
In May 2021, Gucci held a 2 week virtual fashion exhibition on Roblox which was inspired by a physical exhibition in Florence. As users entered the exhibition, their avatars became neutral mannequins which could "absorb" pieces from each of the themed rooms which reflected some of Gucci's most memorable advertising campaigns. Users could also purchase limited edition, digital items and accessories for their avatars, ranging from the equivalent of $1.20 to $9 in Robux (the currency used on the platform). 
The Garden was available to Roblox's 43 million users. Given the fastest growing group of Roblox members are 14-24 year olds, this presented a huge opportunity for Gucci who were able to build brand awareness among a different demographic of younger customers.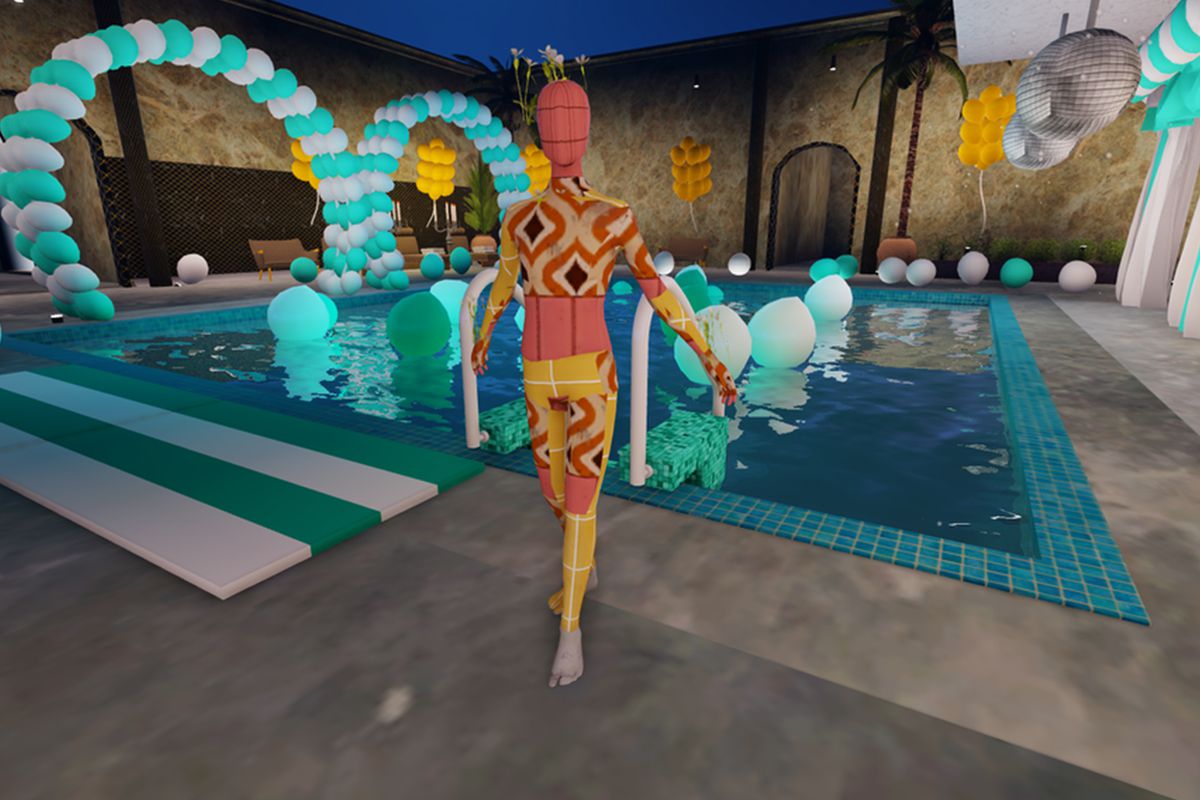 Screenshot from the Gucci Garden Roblox Exhibition 
JP Morgan and the Onyx lounge
It was very recently announced that JP Morgan has become the first bank to join the Metaverse by opening 'The Onyx lounge' in Decentraland. Avatars that visit the bank will see a tiger that roams the lounge and will be greeted by an image of Jamie Dimon, CEO. 
Given that worlds within the metaverse have their own currencies, populations and services, the bank is expecting to be able to operate in the same way it does in the real world – offering services such as foreign exchange, payments, trading and credit. 
This is a great move for the bank who are now leading the way with their advancements in the metaverse. Not only their presence in Decentraland but also the surrounding PR is fantastic for their brand awareness.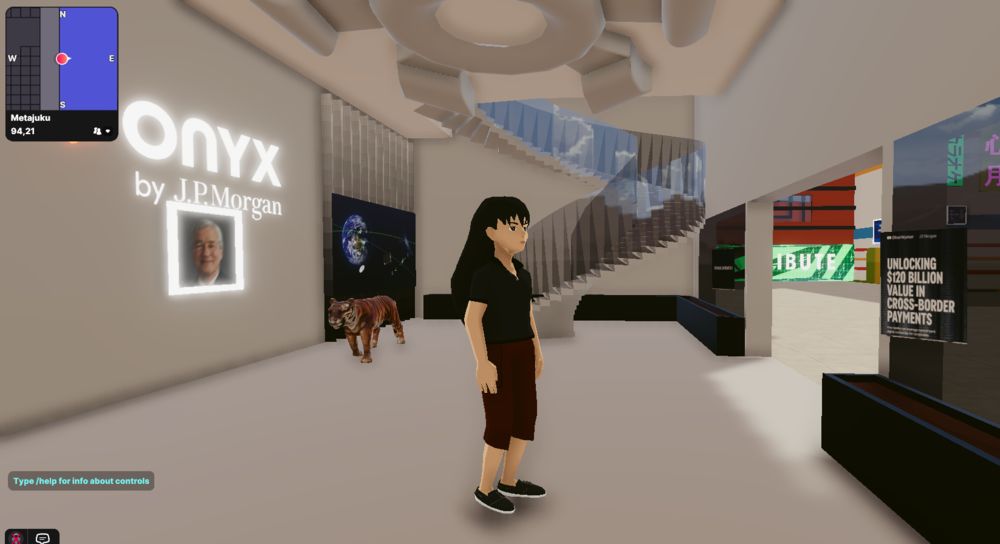 The Onyx lounge by JP Morgan in Decentraland
Coca-Cola, Nike and Samsung are just a few other brands that are already embracing the metaverse, with many more starting to think about how they can enter and monetize these platforms. Humans are a social species with a natural desire to connect and communicate with others, the threat and restrictions of Covid-19 may have driven the rapid acceleration to connect via the Metaverse, but we're only beginning to see how brands can leverage the opportunity of a 'phygital' world. 
Events in the metaverse
Virtual events have been around for years, but pandemic induced restrictions on gatherings meant they were pushed to the forefront for brands all over the globe. A LinkedIn B2B events study on virtual events, reported that over 80% of event organisers feel that virtual events provided opportunities they would not have had before.
Hosting events in the metaverse will mean that virtual events can be taken to a whole new level, fully immersive events with greater levels of human interaction. Your attendees will be able to appear as avatars that will be able to roam around exhibition stands, enter break out sessions and even shake hands with their peers – bridging the gap between virtual and physical. 
Have you been thinking about how your events could go from being virtual to being held in the metaverse? We'd love to hear your thoughts. Get in touch via hello@mcm.click or contact us here. 
Keep your eyes peeled for more content on the future of events.