September 2, 2020
How to Plan a Blog Content Calendar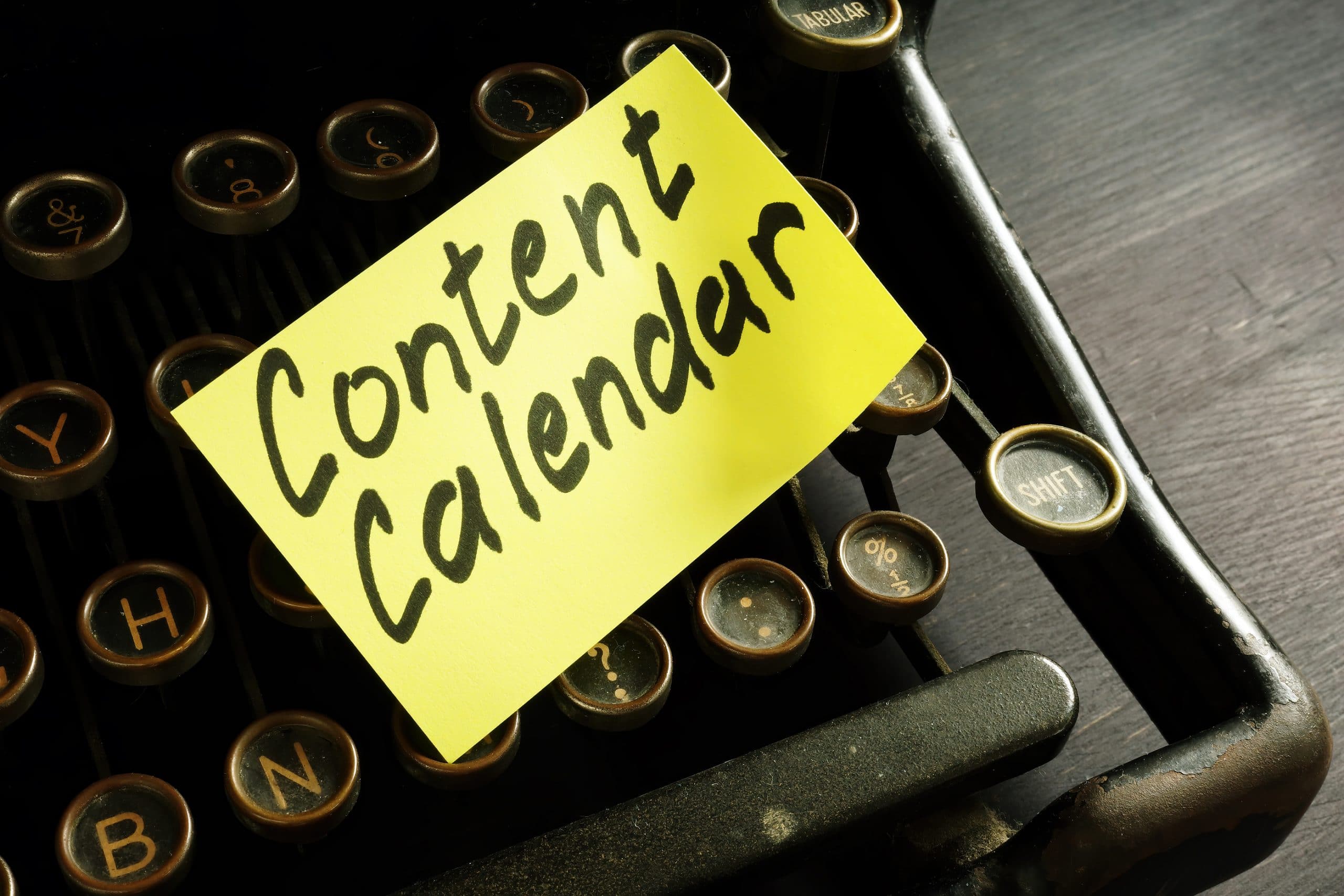 Blogging has been a popular online trend for well over a decade now, but it's one marketing trend that continues to hold its value. Every year, there are 5.6 billion searches carried out on Google. By adding topical or helpful content to your blog, you increase your chances of being a result of one of these billions of searches. And when you have a well executed blog content calendar, you're well on your way to SEO success. 
In this blog, we'll walk you through our proven steps for planning a blog content calendar to ensure you share relevant, topical, value-ad and optimised content on a regular basis. 
Why Have a Blog?
For businesses, blogs still prove their worth when it comes to digital marketing. Your blog should be boosting your SEO rankings, bolstering brand awareness, and keeping people on your website for longer. For many organisations, the concern with a blog is the time investment and knowing what to actually write about. But these hurdles are easily jumped, and though blog writing does require some time investment, it's more than worth it. 
This is where a well executed blog content calendar can be a life saver. 
How to Plan Your Blog Content
Like anything you share online, your blog content should be carefully considered and planned. We always recommend planning your blog content ahead by 3-6 months. This allows you to stick to a schedule for sharing your blog content, or bulk write your content in advance if you're limited on time. When sitting down to plan your blog content calendar, we suggest you ask yourself the following questions. 
What do I want to achieve with my blog? Do I want to inform, educate, entertain or make potential customers aware of my services?

How often do I want to share blog content (we recommend no less than 1 blog a month)

What is relevant to my existing and potential customers in the coming months? 

What challenges or problems do people have that I can provide solutions for with a blog?
Once you have answered question 1, you'll know what sort of topics and tone you want for your blog. Your answer to question 2 should tell you how much time you need to invest planning and writing blog content. Your answers to number 3 and 4 should help you plan your blog topics. 
When thinking about topics for your blog, you should consider seasonal and evergreen content. But what's the difference? 
Seasonal content is any topic that focuses on yearly trends. Examples of seasonal blog content might include:
10 Tips for Being the BBQ King this Summer

Tips for Keeping Your House Warm in the Winter

Your Christmas Gift Guide for Him

5 Simple Easter Craft Ideas
These are heavily themed blog topics that you're going to share at specific times of the year. The benefit of seasonal content is that you can plan ahead and create this content to meet an annual need of users. 
Evergreen content is any blog that isn't specific to a certain time of the year and will attract users no matter the month. Here are a few examples of evergreen blog topics:
The Best Kitchen Unit Materials

5 Ways to Declutter Your Home

The Ultimate Guide to Training Your Dog to Walk on a Lead 
A balanced blog should have a variety of both evergreen and seasonal content, so take this into consideration when you sit down to plan your blogs for the next 3-6 months. Think about what your customers will want or need to know for the upcoming seasons and holidays, and make sure to work in some generally useful blogs, too. 
Suitable Topics & Themes
It's important to get creative when planning your blog content. Depending on your industry, you might be concerned that you won't have enough to talk about. We find that very niche businesses get hung up on this fact, but it's important to remember that you want to be seen as an expert in your field. This means that you're allowed to take a step back and  have opinions on related topics, and in order to broaden your net – you absolutely should! This will guarantee a more interesting blog page and a broader range of people finding it. 
Just because your business manufactures outdoor lifestyle equipment, it doesn't mean you can't be a trusted source on the best camping destinations, stunning photography of American's National Parks or fishing laws in Scotland. You're not limited to talking about your specific products or How to Choose The Best Hiking Boots. Think about the type of knowledge your customers would want that's related to what you do, and don't be afraid to take a step back. 
Waterstones is not limiting their blog topics to the best selling new books, how to store your books or the latest sales. They're branching out and including reading list suggestions for relevant topics, like the coronavirus pandemic and upcoming Father's Day celebrations.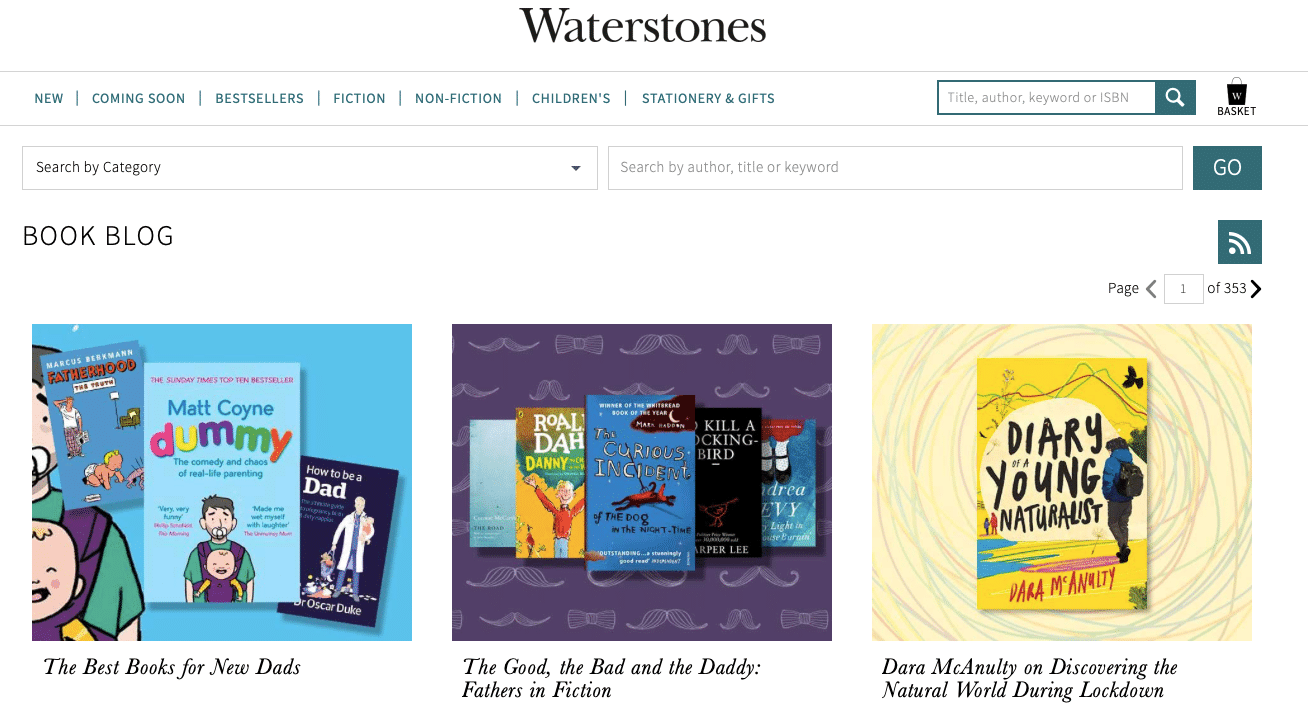 Keyword Research 
With your blog, part of your aim should be to provide helpful content for users, but to do that, they have to find your blog posts. Conducting keyword research around relevant topics is essential in ensuring that your blogs will be found by the right people and stand a chance of ranking in the SERPs. 
There are a number of free and paid tools you can use to conduct keyword research to find the right keywords to work into your blog. These are typically keywords with high search volumes so you know that people are actually looking for your content. By optimising your blog around these keywords, you have a much higher chance of your blogs being found. 
Google Keyword Planner is a great free tool to use. This will show you relevant keywords around a particular topic and show you search volumes, so you know the hottest keywords to implement. 
Keywords Everywhere is another great tool for conducting keyword research for planning a blog content calendar. It is a paid tool, but is very affordable and easy to use. This is a Chrome extension that makes relevant keyword suggestions for searches you make in real time. It also provides search volumes for keywords.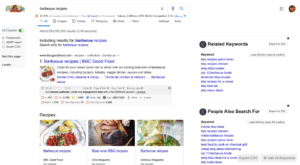 One of the simplest and most helpful keyword research hacks is using Google's predictive search. Simply start typing the topic you're interested in blogging about, and you'll see suggestions from Google. These show other related topics that people are searching. You can't see the associated search volumes, but you can certainly work them into your blog or get ideas for other related topics. 

What to Avoid
To make sure your blog page offers high quality content that won't penalise your website, there are a few things you'll want to avoid. 
Don't plagiarise: This should go without saying, but you should never steal content from anywhere else when writing your blogs. While this can sometimes happen without intent, it's always good to check your blogs before posting them. Running your content through a tool like

Copyscape

can make sure you're not flagged for matching content elsewhere online. 

Don't blatantly imitate your competitors: While it's always a good idea  to see what your competitors are up to and even take inspiration from them, it's never wise to shamelessly recreate what they've written. Think of how you could improve upon something your competitor has created, or think how you could approach a similar topic from a different angle.

Don't over-optimise: Gone are the days of keyword stuffed content, where every sentence is crammed with your target keyword. Google notices and rewards content that is well and naturally written. Absolutely include a variety of relevant and well researched keywords, but be mindful of how the content will come across when it is read by users. If it doesn't feel natural, users won't like it and neither will Google. 
If you need help with your blog content, get in touch with us. We have a team of resident content and SEO experts with years of blog content planning and writing under their belt.