August 22, 2014
#IceBucketChallenge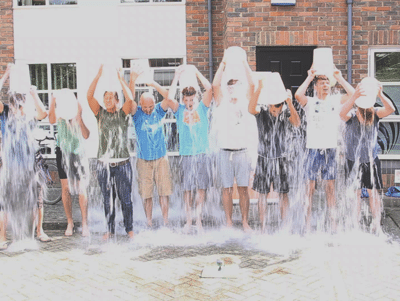 If you've not seen an Ice Bucket Challenge video in the past week, I suggest calling your ISP as clearly your internet isn't working!
The campaign was started by Chris Kennedy and his group of friends in the USA as one of his close relatives is suffering from ALS, more commonly known in the UK as Motor Neurone Disease. The first video was posted just over a month ago, and since then the craze has spread rapidly.
The Ice Bucket Challenge soon spread into the celebrity world and went across the USA with everyone from Bill Gates to Lady Gaga taking part. This week it has spread its wings across to the UK in a big way, with a whole host of minor and major celebrities and sports stars, as well as plenty of inventive 'ordinary people' joining in (most importantly, the MCM Net team).
From Band Aid to Livestrong, huge charity campaigns that resonate with millions of people are not as common as they arguably should be, but once something catches on it does in a big way. What Live Aid did nearly 30 years ago, uniting two world superpowers for a charitable cause, has been replicated for the social media generation.
Like the #nomakeupselfie campaign earlier in the year, this was not confined to just one social network- the Ice Bucket Challenge is everywhere, from Facebook to Vine to YouTube- nor was it actually started by the charity it is supporting. These grassroots campaigns are started by ordinary people who have decided to nominate a charity, in this case ALSA in the USA and MNDA in the UK, and it's up to the social media team of the charity to embrace them and ensure that they are the loudest part of the conversation.
Despite the cycnics, the main target is of course to raise and awareness and funds and with near constant worldwide trending on Twitter and the ALS Association reporting 20 times the amount of donations as they received last year, that objective has certainly been achieved.