November 18, 2014
Integrating your SEO & PPC Campaigns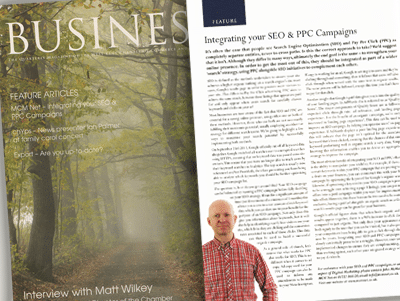 This article first appeared in the Autumn 2014 edition of West Kent Chamber Of Commerce & Industry's 'The Business' Magazine.
It's often the case that people see Search Engine Optimisation (SEO) & Pay Per Click (PPC) as completely separate entities, never to cross paths. Is this the correct approach to take? We'd suggest that it isn't. Although they differ in many ways, ultimately the end goal is the same – to strengthen your online presence. In order to get the most out of this, they should be integrated as part of a wider 'search' strategy, using PPC alongside SEO initiatives to complement each other.
SEO is defined as the methods undertaken to ensure your site achieves a higher organic ranking on a search engine's (in most cases, Google) results page in order to generate more visitors to your site. This differs to Pay Per Click advertising. PPC aims to achieve the same result, however these listings that appear are paid for and only appear when users search for carefully chosen keywords and clicks on your ad.
Most businesses are now aware of the fact that SEO and PPC are essential for a strong online presence, using either one or both of these methods. However, those who use both are not necessarily fulfilling their maximum potential, usually employing an either/or strategy for different search terms. We're going to highlight a few ways to maximise your search potential by successfully implementing both methods.
On September 23rd 2013, Google officially cut off all keyword data altogether. Google switched all searches over to encrypted searches using HTTPS, meaning that no keyword data was passed onto site owners. This means that you were no longer able to track users by their keyword searches in Analytics. The top search is usually now referenced as (Not Provided), therefore preventing you from being able to analyse which keywords you should be further optimising your SEO campaign for.
The question is, how do you get around this? Your SEO campaign can be bolstered by running a PPC campaign before fully deciding on your SEO strategy. If run for a significant amount of time (we'd recommend a minimum of 3 months) this allows you access to a vast amount of rich keyword data which you can then use to your benefit for the purpose of an SEO campaign. Not only does this give you information about keywords, but it will also help in identifying exactly how visitors use your site, which links they are clicking and the conversion rates associated to each of those clicks. This data can then be used to build a successful organic campaign.
As a general rule of thumb, let's assume that what works for PPC also works for SEO. This is no different when it comes to ad copy. Ad copy used for your PPC campaign can also be used to inform any amendments to be made to your Meta description. If copy is working for an ad, Google is serving it to users and they're clicking through and converting, then it follows that users will also click through when served with the same text in organic results. The same process will be followed, except this time you don't have to pay for that click.
Another insight that Google's paid data gives you is into the quality of your landing pages. In AdWords this is referred to as 'Quality Score'. The major components of Quality Score are as follows: expected click through rate, ad relevance, and landing page experience. For the benefit of an organic campaign, we're only interested in 'landing page experience'. This data can be used to improve an SEO campaign, by helping you optimise users' on-page experience. If AdWords displays a poor landing page experience this will indicate that the page isn't optimal for the associated keyword that's been clicked, meaning that the chances of that same keyword performing well in organic search is very slim. Simply knowing this information enables you to devise an appropriate strategy to improve the campaign.
The most obvious benefit of integrating your SEO and PPC efforts, is the ability to manipulate your visibility. For example if there are certain keywords within your PPC campaign that are proving to be a drain on your finances, you can counteract this with your SEO campaign by optimising the keyword for Google's organic search. Likewise, if optimising a keyword in your SEO campaign is proving to be a struggle (not achieving a page 1 listing), you can put more effort into a paid campaign whilst you wait for improvements to take effect. However this doesn't mean the two need to be mutually exclusive, having a paid ad alongside an organic result on a Google search's results page can be great for your business.
Google's official figures show that when both organic and paid results appear together, there is a 96% increase in clicks through compared to just organic. Not only does your appearance across both signify to the user that you can be trusted, but it also prevents your competitors from being able to gain a click through that will now be yours. Integrating your SEO and PPC campaigns more closely can initially prove to be a struggle. However once you have implemented changes to ensure they are complementing, rather than working against, each other your integrated strategy will start to pay dividends.
For assistance with your SEO and PPC campaigns, or any aspect of Digital Marketing, please get in touch with us on 01732 368120 or email info@mcmnet.co.uk