October 21, 2019
MCM Net Continues Sponsorship of University of Kent's Employability Points Scheme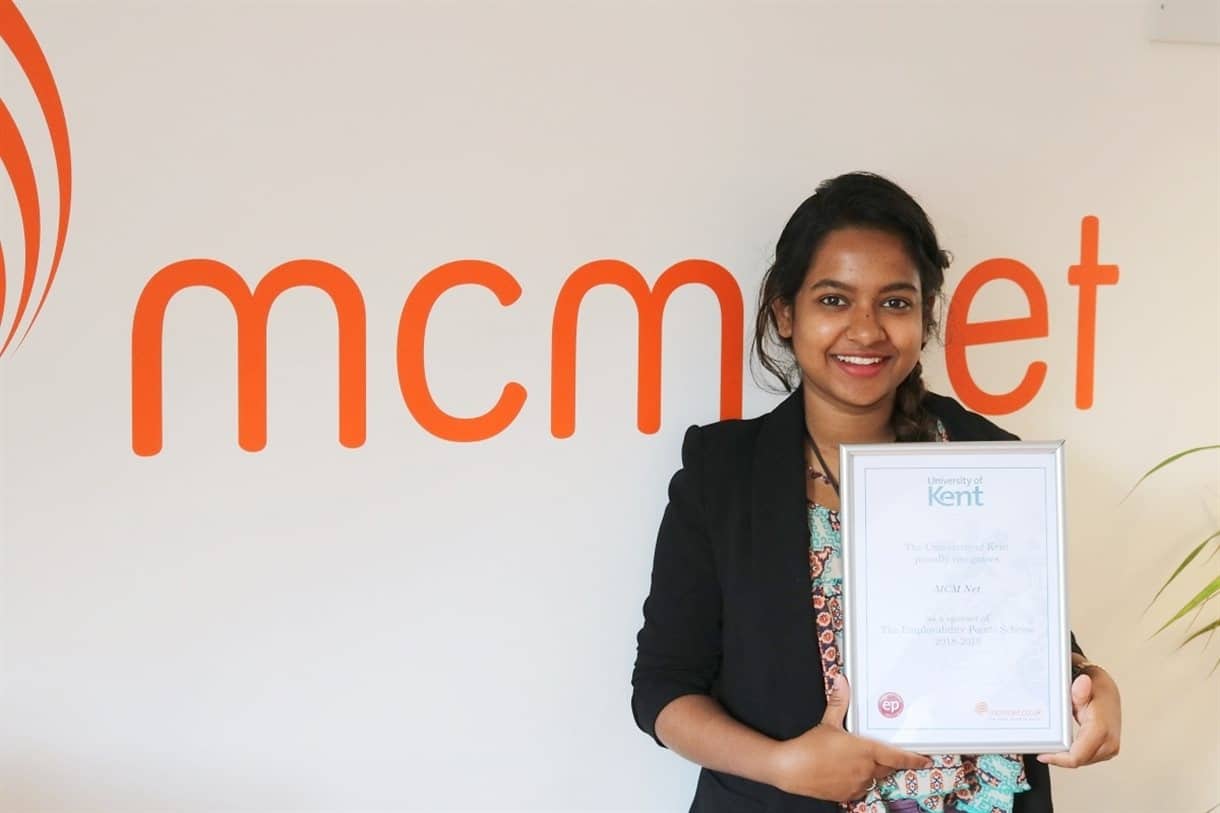 MCM Net sponsors University of Kent's Employability Points Scheme for the fourth year running – a fantastic partnership beneficial for all involved!
University of Kent's Employability Points Scheme rewards students with practical work experience for their involvement with co-curricular activities. Last year over 8,300 students participated in the scheme, with over 800 rewards offered by local, national and international organisations, including MCM Net.
As a sponsor, MCM Net offers opportunities across the summer period allowing students to gain valuable work experience. Dependent on Employability Points earned, different options are available to students. Opportunities include Internships; a temporary full-time work placement between 4 weeks and 3 months in a professional environment.
The Employability Points Scheme benefits the students, and MCM Net alike. The scheme gives us a unique chance to interact with the University. In turn, we get to work with the most engaged students currently studying at the University of Kent, strengthening our workforce, and bringing friendly faces and plenty of enthusiasm to the office.
Many students have passed through the MCM Net office over the last few years, each making a positive impact and gaining valuable experience. Current MCM Net Intern Masha has this to say about the scheme…
"MCM Nets' sponsorship of the Employability Points Scheme has been indubitably helpful. Not only has it granted me the occasion to get real-world interview practise, but it has also helped me secure a brilliant 12-week internship.
I am two weeks into my internship, I am thoroughly enjoying it and love coming to work every day. In this short time, I have been given the opportunity to gain insights into the world of digital marketing and further develop my skills in content writing. The work environment is dynamic, supportive and fun. Everyone on the team is very welcoming. Although guidance (great, might I add) is given, there is a lot of freedom for creativity, taking initiative and pursuing my own interests. Input and growth are encouraged.
My custom-tailored intern plan gives structure to my placement and caters to my individual strengths, needs and interests. The flexibility of this internship is outstanding; despite being hired for the content writing role, I have been given the opportunity to later explore other areas; such as Google Ad content, Paid Social, technical SEO, page optimisation, and many more! I love learning new things, so I am super excited for what's to come. I would highly recommend this internship!"
We look forward to our continued relationship with the University of Kent and hope to welcome many more students like Masha in the future!