April 21, 2022
MCM wins Campaign Best Place to Work 2022 award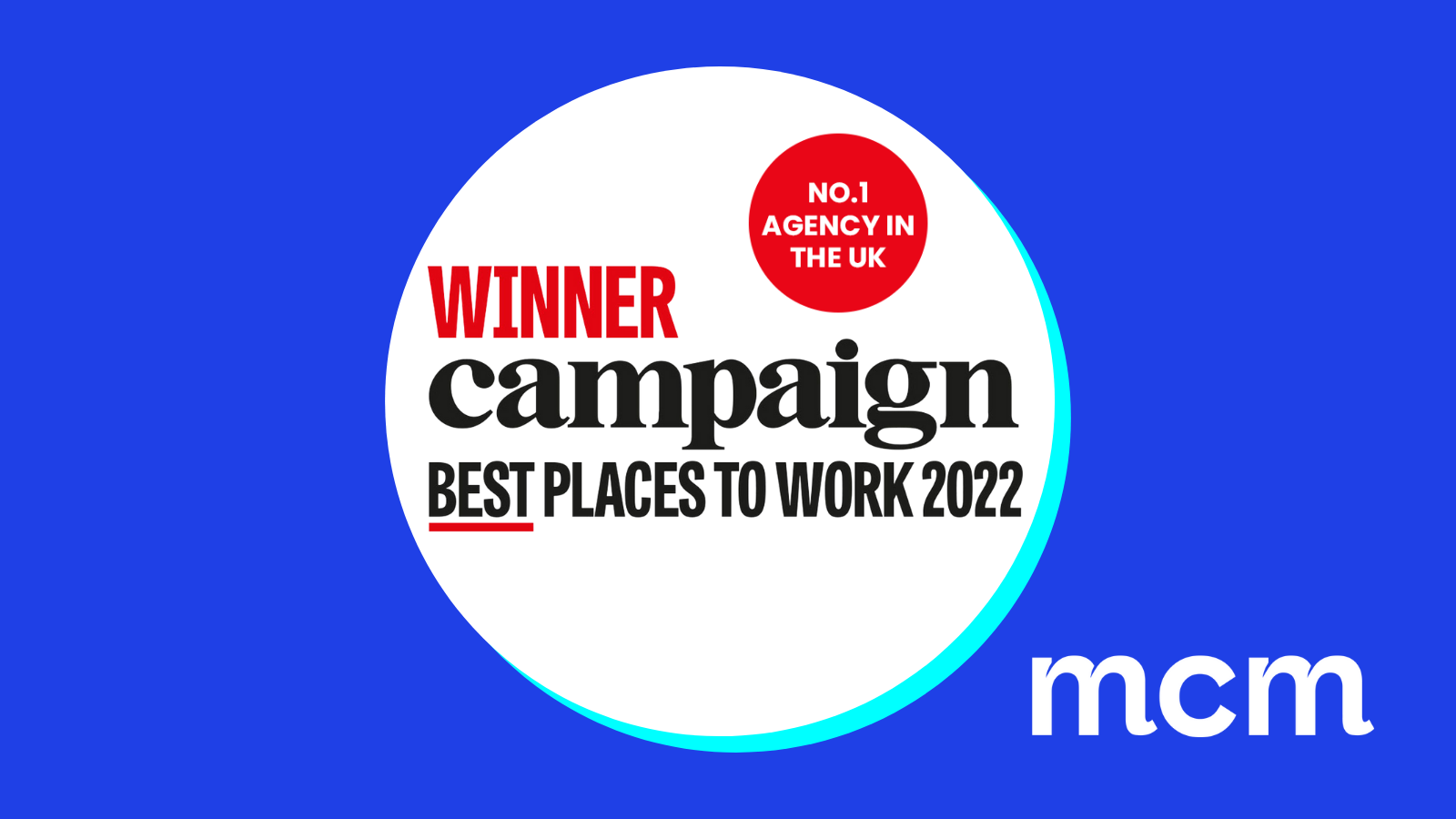 MCM has been ranked number one in the recent Campaign Best Places to Work 2022 awards. 
The list, which is made up of 100 organisations and includes agencies like Havas and Grey, recognises the top employers that have created positive work environments their employees love. Not only did MCM top the list overall as Best Place to Work, we were also category winners of 'Best Boutique Company'. 
I truly believe there are many things which contribute to MCM being worthy winners of this award, and am extremely proud to receive this recognition which celebrates the environment we have created. 
Our Working Model
Following the pandemic, we have shifted to a 'Work from Anywhere' model. During a time when it has been difficult for many to establish the line between work and home life, our employees have been encouraged to find their balance. The team are able to work from home, from our office in Tonbridge or from hubs in London. Our 'Work from Anywhere' model allows greater flexibility for staff, giving them more time for family, friends, hobbies and personal development. A reduction in travel costs and related carbon footprint is also a great benefit! 
We still put a focus on meeting regularly, and have a quarterly meetup which everyone attends. This is key to ensuring we get face to face interaction and have fun together. One recently recruited member commented 'it isn't like this anywhere else!'
Our Recruitment & Retention
Our recruitment process takes candidates through 6 stages from initial interview to an offer being made. We think it is crucial to not only ensure that candidates are capable of doing the job to the highest standard, but also that they share our core values and will enjoy and excel in our 'Work from Anywhere' environment. 
Making great hires generally means that staff retention is higher, which is great for us and for our clients – who are able to develop long standing relationships. The majority of staff members have been with us for at least 5 years – one member of the team, Owen, has been with the business for over 10! We even have 2 members of staff that have gone on to explore other career opportunities and then chosen to come back. 
Our Clients 
Not only does this accolade speak volumes for the business as an employer, it also positively recognises what it's like for clients to have us working as an extension of their team. 
Whenever I have the pleasure of speaking to our clients I hear about how happy and positive our team members are. Their passion shows in their work, which in turn, has a hugely positive impact on the fantastic results they achieve. 
As many of you know, my passion for leading with empathy means employees at MCM are encouraged to be their best, empowered to make decisions, motivated to try new things and trusted to work hard. The team works together as a family with shared values. We truly have a great culture here at MCM and despite a challenging couple of years, the achievement of Best Place to Work proves that we have adapted and thrived.