May 16, 2013
New E-commerce Site for Office Chairs UK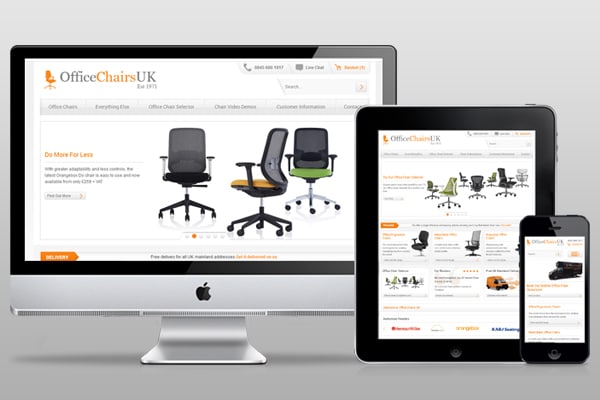 Having successfully worked with Office Chairs UK for several months on an SEO campaign that aimed to drive increasing numbers of enquiries and orders to their e-commerce site, MCM Net were selected to rebuild the website to ensure that their online offering reflected the premium, quality and bespoke nature of their office chairs and products.
In under 7 months, MCM Net had driven almost 50% more traffic to the site, which had had a significant effect on the number of orders received through the site. Compared to periods in previous years, Office Chairs UK had received sometimes as much as 4 times the number of online orders and our aim was therefore to generate the online business further to create a beautifully designed site that's accessible to all users.
As accessibility and usability were key considerations, it was decided to develop the site responsively; ensuring an optimal webpage is always displayed irrespective of the device used or content viewed. The website was restructured to ensure that the offering was clear, comprehensive and complemented the SEO objectives of the site.
The site now clearly displays Office Chairs UK's full online offering and includes a range of bespoke features including product customisation options, a JavaScript zoom feature and an online video gallery that lists all videos associated to chairs listed throughout the site. In addition to this, a new 'Office Chair Selector' tool was developed to ensure that even if a user has little or no knowledge of which chair's best suited to their needs, they're able to clearly and confidently select a chair that matches their criteria.
Like Office Chair UK's range of products, the website CMS was developed bespoke – ensuring that the system fully met their individual business needs. Bespoke CMS features include a 'manage product colours' option that allows Office Chairs UK to add infinite numbers of colour swatches and swatch groups, 'manage product options' that allows the client to add new customisation options or select from a pool of existing customisation options for any products contained throughout the site and a voucher code system that allows the client to create and assign voucher codes to all or a group of products listed throughout the site.