April 17, 2017
The Basics of Tracking with Google Analytics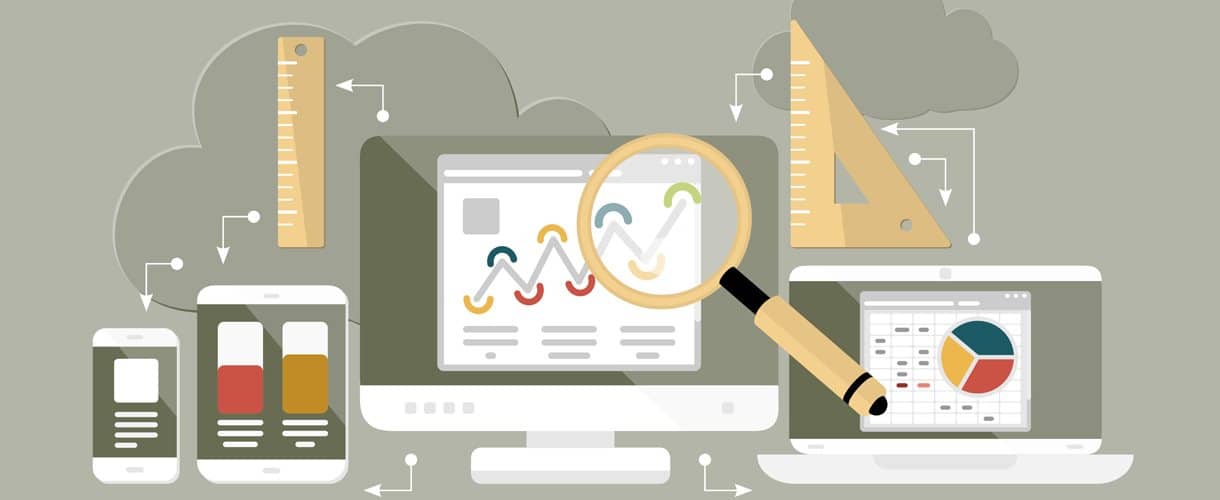 Google Analytics is one of the essential tools for all businesses no matter what size, as it allows you to track how users interact with your website.
Are you one of the many who have installed Google Analytics, but are unsure how to make the most out of it? And if you haven't already set-up your account, then what's stopping you? It's completely free and provides you with a wide range of tracking capabilities.
Here we've written a beginner's guide to Google Analytics that will help you understand how it tracks your website, the most important visitor data available to you and a couple of tips on getting the most from your account.
Why do you need Google Analytics?
No matter the size your business, Google Analytics provides a range of free tools to help you analyse your website's visitors. Tracking is important as it allows you to see what pages are working to help you to improve your website. Here are just a few of the main reports you should be using in Google Analytics.
Track how many people are visiting your website and which pages they are visiting

In the Analytics dashboard navigate to Behaviour > Site Content > All Pages

Find out about the demographics of your users such as where they live

You'll need to enabled Demographics in your account. To access, navigate to Audience > Demographics > Overview

See which device people use the most to view your site

Navigate to Audience > Mobile > Overview

Discover how many visitors to your website actually convert into customers

You'll need to create Goals for this (see section below). To access, navigate to Conversions > Goals > Overview

Analyse which channel your converting users arrive from, such as Google search or social media

Navigate to Acquisition > All Traffic > Channels
How do I track my website pages?
If you've signed up for Analytics but can't see any data being recorded, this is because tracking hasn't been set-up correctly in your Google Analytics account. In order to get data about your pages, you need to place the tracking code on every page of your website that you want to track.
You can find this tracking code in Analytics under the Admin section, which can be found in the sidebar menu at the bottom of the page. Click on the icon that looks like a cog wheel and you will be presented with a range of options. Under the Property section (middle column), click on 'Tracking Info', then 'Tracking Code'. You might need to consult with your development team to ensure that this is placed on your website correctly.
Creating your goals
Once you have your tracking code installed correctly on your website, you will be able to start creating Goals. This is one of the most useful aspects of Google Analytics as it will tell you when an important action has been taken on your website. Whether you look to generate leads through a contact form or want to track people making a purchase on your website, Goals can provide you with this useful information.
You will also find goals in the Admin section of Google Analytics under View, and setting up a basic goal is fairly simple to do. After clicking +NEW GOAL, you can follow the steps to create a 'destination' Goal to begin with. This will track how many people reach a certain page on your website, e.g. 'thank you' page after completing a form on your website, and is a great way to introduce yourself to Goal tracking in Analytics.
Site Search
A useful feature of Google Analytics that can provide you with valuable data is Site Search. This is something that you should definitely set up if you have a search box on your website. This tool can provide you with data about the terms that people are searching while on your site. This will show you if there is any opportunity for you to add new pages or blogs that can answer people's queries. It's easy to set this up and you will need to head to the Admin section again.
Under the 'View' column, click on 'View Settings', scroll down until you see 'Site Search Setting' and toggle the option for site search tracking to ON. In the 'query parameter' box, you should input the letter that appears in your URL, usually either S or Q, after performing a site search on your website.
Making the Most of Google Analytics
If you have followed these steps and set up some of the major aspects of Google Analytics, you should now be ready to make the most of the data. When you log into Google Analytics, you will automatically be taken to the overview tab of your page, which provides you with a good idea of how your website is performing overall. However, down the sidebar menu, you will be able to choose from a number of different reports that offer a wide range of information about your website.
If you are still unsure about Google Analytics or need some advice, then MCM Net are happy to help. Get in touch with us today and see how we can help you. Our digital marketing team have a great deal of experience with Google Analytics and can advise you on how to make the most of it.