February 19, 2021
'The Year 2020' Game Launch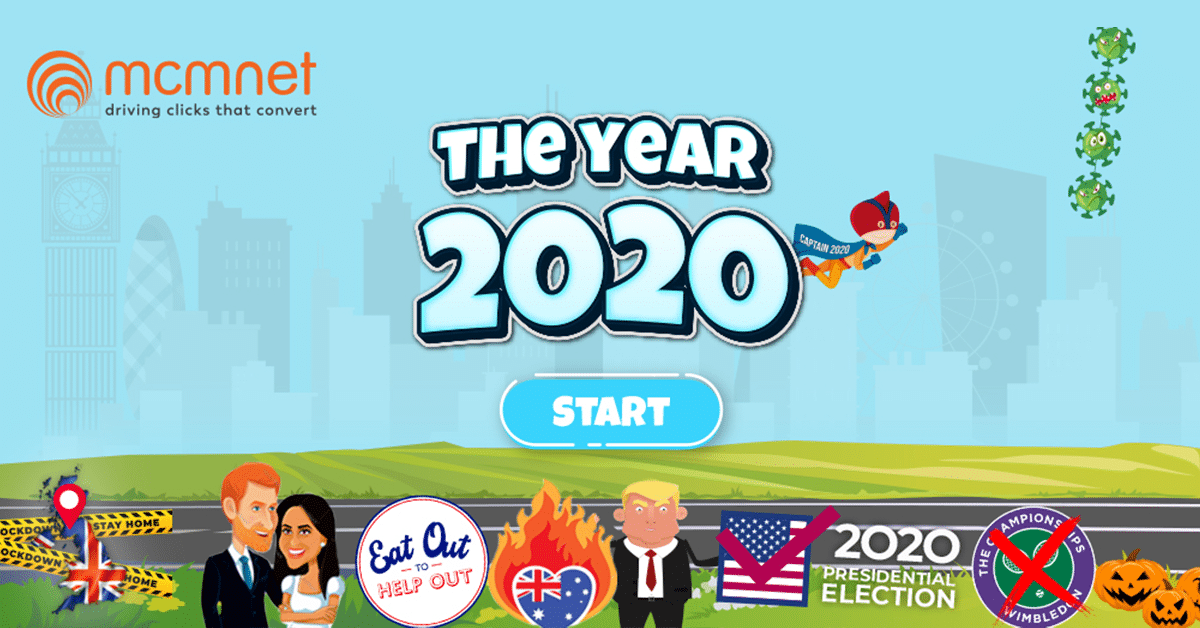 As an agency, MCM Net are passionate about all aspects of digital marketing. We wanted to show our clients that content can be fun and engaging – and what better way to do this, then by creating a game?
Our innovative and creative team put their heads together to come up with a game idea that was addictive and relevant. During our sessions we came up with many ideas from events that had occurred throughout 2020, (as you all know there's been a few ups and downs) from Tiger King to Coronavirus to the wildfires in Australia. We just couldn't decide on what to choose until, one of the team members suggested we use them all and thus the 'The Year 2020' game was born!
The process..
Now that the team had decided on a topic the next step was to make a list of all the major events in 2020 and decide how to represent these events in a game. 
We collaborated and decided that we would represent these events as images in the months in which they occurred. We created 'Captain 2020', a superhero whose aim was to get to the end of the year without getting hit by coronavirus.
Once the game play was decided our designer got to work on creating fun and engaging graphics to be seen throughout the game. It was then up to our developers to put the finishing product together! 
The game play..
To play the game, fly through the months of the year avoiding the coronavirus. There are items to collect (and dodge!) on your way, too. Collect the facemasks for bonus points but dodge the red airborne virus to avoid losing points. Hit a magic hand sanitiser to get an invisibility boost for a while, allowing you to just fly through the obstacles. Don't forget to grab the toilet roll, to help clear your path! See how many points you can collect before you reach the end of the year but be careful, if you hit the coronavirus its game over!
Why not try the game out for yourself by clicking the link below? Disclaimer: it can become addictive! 
If you need help with your digital advertising, we are the perfect agency for you. Our team of digital marketing experts are ready to work with you to create a bespoke approach for your business.