September 22, 2020
What did MCM Net get up to during lockdown?
If you've watched any of our recent Sauna Talks, you'll know that our team has described the past six months with words like crazy, surreal, bizarre and challenging. Lockdown came as a surprise to the whole world, but what also surprised everyone was how quickly many people adjusted to living life closer to home, but also working from home. 
But how else would the MCM Net team describe their time working from home? We've certainly kept busy working away for our clients and taking on exciting new projects, and we've all managed to fill our time outside of the work day with new hobbies, activities and odd hairstyles (out of necessity, of course). Find out a little more about what the team did with their lockdown, both in our personal and work lives, straight from the source. 
"I have been working at MCM Net for nearly five years and I would never have thought that working from home would be the new norm. We are such an innovative and creative team and are always bouncing ideas off of each other in the office. Now we have had to find new ways to do this through Teams and Zoom! It's been a challenge but I believe we have got there. Although secretly I do enjoy working at home because I get to spend time with my little helper – Henry, my new puppy.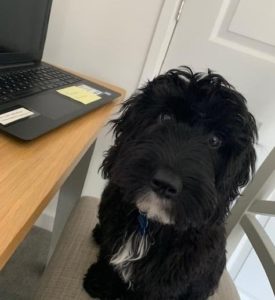 Say hi to Henry!
"We have been incredibly lucky at MCM Net to have been kept busy by a range of exciting new projects during lockdown. Whilst the change in environment (WFH) was initially strange we have all leveraged technology in order to keep the team working cohesively and efficiently together (and even still finding time to have a laugh!). On a personal note, during lockdown I had an ill-fated attempt at trying to grow a man-bun, however, with the world opening up again I sadly had to lose it for fear of public embarrassment."
"I have made use of the extra time in lockdown to renew my interest in History and have been reading lots more books on world history. In terms of work, we have been using additional time during lockdown to look into changes to structured data and how the SERPs are changing to help improve client rankings."
I've been getting into exercise and have been finding more time for myself. The extra hours I spend at home involve me trying new things such as cooking and painting. When it comes to work, I've learnt how to adapt to remote working and how to communicate to my colleagues online. Working from home has been quite easy to adapt to, but doing it all the time can be really hard, especially as the office is so sociable."
Lauren, Junior Digital Marketing Executive
"Lockdown was a huge adjustment for me, with not being able to see colleagues and clients face to face, but I think we all got there very quickly. I made use of the additional time I had available to myself by keeping busy with staying fit and starting to learn how to play the guitar."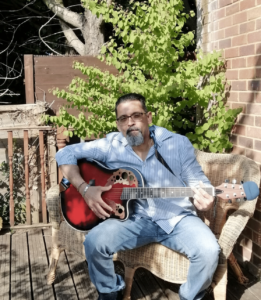 "I've been learning new skills working in other areas of the business such as marketing and alongside the developers. Lockdown meant that I was juggling this with home-schooling, I love a challenge, it has been great keeping so busy while upskilling."
"During lockdown I moved house, grown a moustache and bought a coffee machine, all while increasing work related productivity by 79%*.
*stats may not be accurate
Ollie, Digital Marketing Executive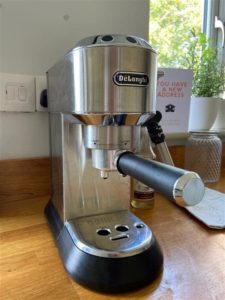 Ollie's new pride and joy
"I've used the extra time since lockdown to throw myself back some of the things I love most, like reading, writing and exploring my local area by taking my dogs on long walks. I've also been spending more time on self care by exercising and meditating. As far as work goes, I've managed to strike a good balance for working from home after a bit of practice! I've thrown myself deeper into all things concerning content, taking on additional account management and enjoying the GIFS that Teams has to offer."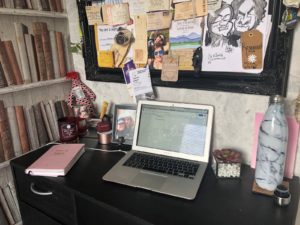 Aindrea's work from home setup
"During lockdown I've continued to focus on paid media strategy in creative ways to keep business' presences up. Outside of work, I got a new puppy and have been taking a digital drawing class online."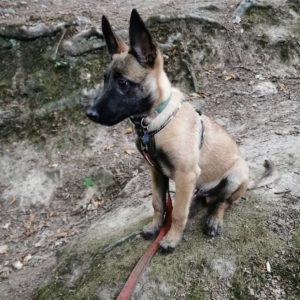 Toby's puppy, Axl