April 14, 2015
Why Is Google's Mobile-Friendly Algorithm So Important?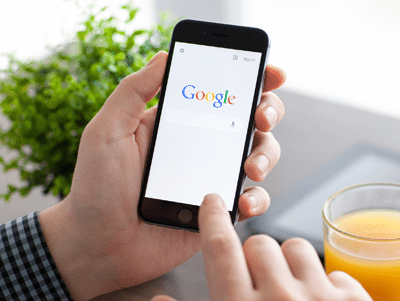 It's just a week today until the next Google algorithm update. This update is a significant one as it only applies to mobile searches, and is likely to see big changes in rankings if your site isn't mobile-friendly. We've taken a look at just how important a mobile-friendly site is, and what the update will affect…
With 58% of the UK's population being mobile internet users, if they're not already then more people will soon be accessing your site via a mobile than desktop. Many of our clients find that more than half of their traffic comes from mobile devices, and this number is continuing to grow on a daily basis. You may have noticed that since November, for searches that have been carried out on mobile devices, results from those sites which meet Google's standards are labelled with 'Mobile-friendly'. This allows users to make an informed decision by letting them know if a site is going to display correctly on their device before they've even clicked through.
The importance of a mobile-friendly site has been even more prevalent in 2015- since mid-January, Google have been sending out notifications to webmasters who fail to meet their mobile usability standards. These messages warn that any pages (and in many cases, that means entire sites) that are not mobile-friendly will be "displayed and ranked appropriately for smartphone users" in search results. These recent notifications to webmasters are a clear warning that from the 21st of April, Google will be implementing an algorithm that takes into account a site's mobile usability. As with all algorithm updates, this will see those sites that meet Google's mobile-friendly standards be served to users on their device, whilst those that don't are set to fall down the rankings considerably.
Which parts of a user's search results page will be affected have been much discussed as the big day gets closer. It seems to be that, for now at least, only the 'ten blue links' will be affected and Google Local and Google News results will be untouched. However, this may not last long as the teams responsible for those products will have the ability to implement their own version of the mobile algorithm if they so wish.
If you want your website to be accessible to, and actively used by, as many users as possible then you need to ensure that mobile-friendly is your focus. Get in touch with us if you have any further questions on the new Google update and find out how we can help your site become mobile-friendly.